The Victory Hoe: A DIY Weed Removal Tool
Make Your Own Garden Variety Weeding Tool
By Lowell Carlson – The Victory Hoe is a homemade, adjustable angle, weed removal tool that resets your concept of what a hoe should look like. I have taken to calling it by this historic wartime name, because you can make this very weed removal tool to produce food for the household.
This garden and farm tool is the essence of simplicity. It is reward in itself to create a weed removal tool you use to grow your own produce. There is nothing complicated about making the Victory Hoe.
The origins for the Victory Hoe go back to Russian and Ukrainian gardeners, some of the best in the world. During the Soviet era these backyard gardeners produced an astonishing amount of the fresh produce sold on the open market. They made do with scrap wood and metal to fashion gardening tools.
The hoe's design is utter simplicity and utility. Form does indeed follow function with the Victory Hoe. It reduces the hoe to a piece of wood, a shaped metal cutting blade and two bolts. Gone is the turned handle, filing, sanding, and chucking the head and then relying on one cutting edge.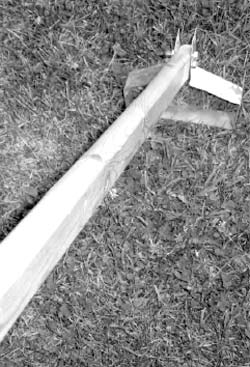 The beauty of this homemade cultivation tool is that the cutting edge can be set at several angles to accommodate user height and to make the blade more or less aggressive while weeding.
I use my Victory Hoe offset blade version for more than just weeding. It is useful for incorporating fertilizer and making planting trenches, firming soil over planted rows, and grubbing stubborn weeds with the corner of the blade.
This weed removal tool is easily made in a farmstead shop, or your basement workshop for that matter, using a simple one-inch wide board, a piece of scrap metal, and hardware. I made my first Victory Hoe in about 30 minutes, start to finish, from an old pine 1×4 and a piece of steel from the scrap metal bin.
If you are lucky enough to have access to some thin but hard steel, you are in luck. If not, you're going to have to try hardening the blade. More on that later.
I made two cutting heads, one an offset blade and the other, a conventional stirrup blade. There are five cutting edges on the offset head, six on the stirrup. That gives you more time between filing and more time for weeding. This concept lends itself to the inventive mind.
It could be the platform for a system approach to commonly used homesteading tools. I am working on a rake head for the Victory Hoe handle.
The wood handle, a board, marks the radically different appearance and it is off-putting at first. When I fashioned my first Victory Hoe handle from an old 1×4 pine board and rounded the edges I found it surprisingly more comfortable than a round handle.
A key design feature is the front pivot bolt and the ability to quickly change angle settings by moving the location of the second bolt.
At 68, arthritis is starting to make it painful to grip a smaller diameter hoe handle. The tapered and chamfered rectangular handle on the Victory Hoe gives me a more open-handed grip and it just feels better. This is the first garden season it has been fun to weed in a long time.
The beauty of the Victory Hoe is that you can use lower value wood for handles. It does not take a craftsman to produce the hoe. There's no need to hunt through hardware stores for replacement handles. Saw and shape to your particular taste.
I use a small block plane to taper and chamfer the handles. I started with a 63-inch length for the long handled models and gradually shortened them as I made copies. I have settled on a 58-inch long handle version and I also made a proportionally smaller blade for a 15-inch model.
This design is sometimes referred to as "ultra light" gardening in Russia, where this type of hoe and kits to make them are available. The Victory Hoe has its limits. Unless you can use heavy, tempered steel for the blade, the hoe is not suitable for primary tillage or chopping heavy weeds and grass. It is best suited for clean cultivation or weeding out small seedlings, not mature weeds.
In the hoe's limitations are the benefits of early weeding. Water-wasting and yield-reducing weeds are eliminated early when they're easiest to kill.
I reclaimed a former sheep and goat lot this spring here at Carlson Farm for new garden space, and it was a major battle with quackgrass and Canada thistles. After using the low-wheel cultivator to set back the weeds between row, I relied completely on the Victory Hoe. The offset blade works great for precision, close weeding around plants.
My suggestion for the width of the cutting surface? Don't make the offset cutting head longer than four or five inches. The stirrup model seems to work with a cutting surface up to six inches wide. Drill a set of holes in both the cutting head and the attachment point on the handle that correspond to the angle you find most comfortable. Use 1/4-inch machine bolts with washers and lock washers to make a tight fit before you put it to work.
If you are using scrap mild steel and don't have access to real tempered steel, try using your butane torch and heat until you see discoloration on the surface of the metal. Plunge the cutting head quickly into water. It helps to have done some filing to establish the blade prior to heat-treating.
I reclaimed mild steel used on a feed bulk bin here at the farm. Heat-treating the head makes the cutting edge last longer between filings. Use a grinder to establish the cutting edge and angle of the cutting surface and then be prepared to do a lengthy stint with a sharp metal file.
At the suggestion of a friend who teaches at Iowa State University, Ames, I passed the adjustable hoe idea along to ISU mechanical engineering staff involved in technology adaptation for third world countries. This design has enough merit to prompt consideration for development in conjunction with a Uganda farm women's cooperative initiative.
The low-cost, relative ease of construction and utility of the design could be a real boost to subsistence gardeners and farmers. There is plenty of room for experimentation with design and attachments.
Give the Victory Hoe a trial in your garden this year or next, and help spread a great idea in self-sufficient gardening.
Originally published in Countryside September / October 2012 and regularly vetted for accuracy.